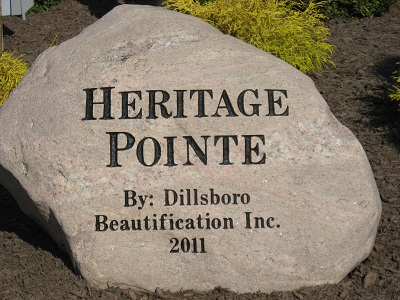 MISSION STATEMENT
The Beautification Committee, with its volunteer members, will promote better values of existing property that belongs in the civile town of Dillsboro, IN.
The committee will promote a clean and neat community. In addition, we will strive for the elimination of trash and litter, where a problem exists. We will encourage residents to take pride in their property.
We plan to promote the planting of trees and flowers. Arbor Day to be observed and the commitee could make necessary provisions to distriburte trees to citizens. We will promote the planting of seasonal flowers and holiday decorations, in pots, at barious locations in the Town.
The committee will make certain recommendations to the Town Council, as to problems that exist within the Town of Dillsboro. We will make recommendations as to enforcement of the ordinances of the Town, in an effort to correct blighted areas or property within the Town.
The Committee, overall, would like to make Dillsboro a better place to live.
Membership
We are always looking for members that are interested in keeping Dillsboro looking beautiful. Please come to one of our meetings or contact any of our officers to answer any of your questions.
Events
The Beautification Committee is active throughout the year and coordinates several special events. They include:
Annual Spring cleanup is held in conjunction with Earth Day
Annual Arbor Day tree giveaway, since 2008 we have given away 300 trees each year
Veterans Day program honoring local veterans that has served our country. We work side by side with the Dillsboro American Legion, Northcutt Laker Post 292.
Achievements:
Listed below are projects the Beautification of Dillsboro is responsible for or has participated in:
Helped plan, design and fund the walking trail at the Dillsboro Community Park
Seasonal planting of 34 flower pots, at various locations in town
Planting & maintenance of flower beds located at the Dillsboro Town Hall, Dillsboro Fire House & Dillsboro Community Park
Provide wooden frogs to the Dillsboro Elementary School 3rd grade class for painting and decorating. The frogs are then placed in the flower ports around town to help promote the Dillsboro Homecoming Festival frog jumping contest.
Planned, Designed and funded Heritage Pointe. Also helps plan all events at Heritage Pointe (Christmas lights, Christmas caroling & Veterans Day program)
Displays Toy soldiers and snowmen around town during the Christmas Season.