Dillsboro Arts Friendship Gallery opened at North & Bank Streets on December 2nd.
Dillsboro Arts is an idea that encourages sharing among local artists and the community. Friendship Gallery will provide space for that sharing.
Dillsboro Arts—the second exhibition. "Connections. Ties to our town." This will be an exhibit of works that have a meaningful connection to the community, submitted by members of the community. Anyone can loan or sponsor up to two artworks for the exhibit. Written descriptions will be exhibited with the artwork to describe the connection and meaning. Contact us for more information. Thom at (812) 907-0504 or Rebecca at (812) 432-3126.
We are also establishing a 'Writers Group' meeting on Tuesdays, 6-8 pm. We are open ever Saturday 10-2 and Thursdays 4-6. We hope to o er hours for music, storytelling, open mic - stop by and share your ideas, view the work on the walls, bring your sketchbook or journal, if so inclined, and let's draw, write a poem or have a conversation about art and life.
Meet the artists
The founders of Dillsboro Arts, consist of seven local artists with a dream....
Darian Couch
From the time I was a little boy I knew I was an artist. I have always been fascinated with shapes and colors from as far back as I can remember. I was planning on a ending art school after high school but took a job with my father as a union boilermaker. This is how I became so fond of working with metal. "For years I worked at a metal shop, all the while knowing my artistic drive was wasted working in a factory. So I decided to take a stained glass class about six years ago – I fell in love with the medium.
"I feel that art has been calling to me all these years and I finally listened. I can't run from my destiny." - dc
Rebecca Davies
Photography is like me travel. We pose for the camera and then run off into the rest of the day, the rest of our life. The paintings that I've submitted for this show are based on moments captured by a photograph. Looking into a face from the past, I am transported through memory or imaginings of another me.
"Interpreting the image, looking for the essence, the great line, the just right shadow, the sense of movement in and out of the picture, I try to tell a story. And maybe, just make you look a little bit longer." - rd
Mary Jo Finnegan
Mary Jo has always had a passion for creating. After growing up in a family with artistic leanings, she took her creativity to the classroom as an educator. Now retired, Mary Jo still pursues the joy of creating in vivid, detailed watercolor paintings and fused glass.
Kendal Miller
"My photography is inspired by nostalgia and beauty, whether it is something that I see outdoors or in the various people I encounter. I love looking at the way the light and shadows fall on a subject or see a reflection on or pattern emerging. It's intriguing to find an unique perspective to a scene or object that typically wouldn't merit a second glance." - km
Virginia Kramer
Virginia, a resident of Farmers Retreat Indiana is known for her plein air (outdoor) pastel paintings, along with landscapes she also enjoys painting animals and architecture. She a ended the Ohio Visual Art Institute in Cincinnati for graphic design, she has worked in advertising as a graphic designer, electric prepress and illustrator for over 30 years but always pursuing her fine art skills.
Virginia has won first place in pastels at TC Steele Historical Site paintouts. She has received several first place awards at the IPAPA New Harmony First Brush of Spring art competitions, she also has paintings in collections.
Four of her paintings were published in "painting Indiana III Heritage of Place" and IPAPA's book "Hoosier Waterways". Virginia has also taught pastel workshops, served as president and board member of the Indiana Plein Air Painters Association and served as President of the Southeastern Indiana Art Guild. Virginia's passion is painting outdoors in different locations from her farm to the Grand Canyon in all seasons and painting with other artists.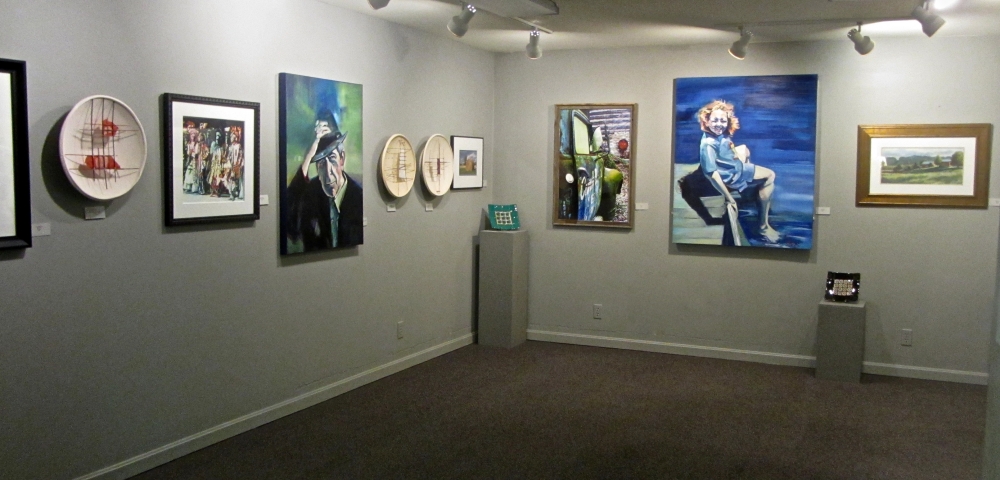 Thom Maltbie
Thom has maintained a studio in southeastern Indiana for almost 40 years, working in both clay and kiln-formed glass. He studied Architecture and Ceramics at Miami University and received MA and MFA degrees from Bowling Green State University. His artworks are included in collections of the American Museum of Ceramic Art (CA), Purdue University (IN), Ganne Corporation (DC), American Art Clay Company (IN), Aetna Insurance (CT), and Cincinnati Bell (OH). He teaches in the Education Department at IUPUC and has shared a studio with kids at South Ripley Elementary School for three decades. Thom received the Lilly Endowment Teacher Creavity Fellowship in 1996 and the Lilly Endowment Distinguished Fellowship in 2006.
"I believe that our dialogue with art is instinctual and visceral, a subconscious discovery of shapes and patterns that evoke bits and pieces of visual memories and feelings. In my work, these might remind you of the unbelievable varieties of patterns and shapes in the natural world, and link us to a shared human consciousness throughout me and place." - tm
Cathy Patton
I have always liked rocks, they were just something my family collected from everywhere we went. However I did not really developed a passion for them until 2011 when, on a challenge from my father, I began looking inside of them and seeing the story they could tell. I fell in love with their images, colors and textures after a Rockhounding trip in Michigan. The more rocks I worked with the more I began to see an intelligence behind their creation and to appreciate each piece for the unique piece of art that it is. Whether a fossil, agate or a fine jasper, each stone, each rock, has a story to tell and my job is to bring that story to you. It is a labor of love but I also nd an enormous amount of satisfaction in seeing each piece find a home."
"People often ask where my inspiration comes from. I would have to say the whole of creation is the biggest inspiration for me. We all move around in it every day but don't always think about it or see it reflected in everything around us. I do. When I look at the sky or the trees, water or snow, it makes an impression on me and somehow, a lot of the images I live in daily, I find reflected in the jaspers and agates I work with. There is always something I recognize in the stones and that is what I try to focus on in that particular piece. From that point, everything I do with that particular stone and setting is based upon that one thing I saw, whether it is an image, texture, color, refraction of light or a combination of those things. Because of this, my works with stone are all one of a kind pieces. No two stones are alike and thus, no two finished pieces are alike."